Graphic Icons is a T-Shirt, Graphic, Print and Web creative solutions provider.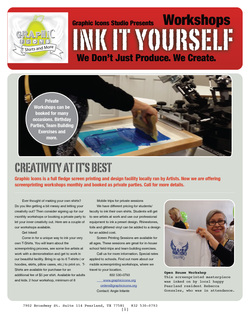 Graphic Design Services: Advertisements, Logos, Branding
Screen Printing and Embroidery Products: Min. Order of 12 - T-shirts, Youth, Ladies Cuts, Totes, and even doggie tees.
Custom Bling Shirts: Create a full bling design or combine screenprinting with partial bling.
Sublimation products: Photo Shirts, Mugs, Ornaments, I.D. Badges, Dogtags
Custom Vinyl: Wall Monagrams, Window and monument vinyl
Do-it-Yourself Sessions: Leisure Learning Sat classes starting in April and June. Private bookings are available, Call for more information.

---